This Story Goes Nowhere
Many moons ago I was sitting in my old Roscoe Village apartment on School Street (the one I gave directions to in the third verse of a little-known Screeching Weasel song called "Why'd You Have To Leave?") with a group of people which included one Erika Hynes, as well as Larry Livermore. Probably Vapid too. I'm guessing largish quantities of Old Style were being ingested. Details such as who else might've been there have long since been swallowed up by the sands of time.
In the course of the conversation it came up, as it often did, that Erika, a Rockford, Illinois native, had grown up next door to Cheap Trick's Rick Nielsen. Or more accurately, she had grown up between Rick Nielsen, as he had owned the houses on either side of her parents' home. (It probably also came up that "Southern Girls" was actually about Southern Canadian girls, which then, as always, would've prompted an outraged monologue from yours truly on the absurdity of the concept, what with something like 98% of Canada's population living in the Southern part of the country and all).
In the late 1970s Cheap Trick had gone from respectable, hard-working, but not overly popular rock band to overnight sensation with the release of the At Budokan LP. The album was a massive, humongous, stunning success, on par with the other late 70s mega-huge albums like Frampton Comes Alive, Rumours, and Breakfast In America (my God, did I hate that album. I still hate it. Imagine being on the verge of adolescence and having no choice but to hear that album virtually everywhere you went. It was a brutal, horrifying year or two. Supertramp made Fleetwood Mac sound like Motorhead). At Budokan was the best of the lot, by far. I knew that album backwards and forward. That album is tattooed on my consciousness. If the Buddhists are right and I'm doomed to rebirth after rebirth, and ten thousand years from now I am born a worm in some sub-Saharan hell-hole, I'll be a worm with the faint strains of "Come On Come On" and "Surrender" chugging through my little worm brain like some maddening Pepsi ad. Don't get me wrong, I love Cheap Trick, but I don't think I've ever listened to any album as many times as I listened to At Budokan and I think it damaged me a little.
Back on School Street, around 1991 or 1992, I probably said, "Some day I'd really like to meet Rick Nielsen to ask him about that fucking bridge on 'Lookout'."
"What fucking bridge on 'Lookout'," somebody else (may have) asked.
"What's 'Lookout'?" asked Larry Livermore (possibly), which likely resulted in my picking up the old Epiphone SG and struggling through a couple of bars of the classic Cheap Trick song.
"There's a line on that bridge that has always driven me nuts," I said, as I came to the part in question (I really did say that, I'm pretty sure).
The line is "Cancel Colorado in the march by request."
Now this line sits at the end of a bunch of deliberately obscure lines that comprise the bridge (the lyrics on the bridge have literally nothing to do with the lyrics for the rest of the song, which are more or less standard innocuous pop fare, albeit with a slightly odder twist than usual), but there is a relative clarity and sense of purpose to the line as compared to the others (I'm talking about stuff like "Seas over yonder" this and "Lands to the south" that). It clearly means something specific and of relative importance. It's such a clear and direct reference to something that it obviously only makes sense to certain somebodies, and I really wanted to know what it was. On top of everything else, it comes right after a line about "searching for the riddle to the clue" or some such thing – very Beatles "Paul is dead" kind of stuff. I'm sure those were the types of things I was saying when Erika finally announced that she would attempt to pull the covers on the song for me, which involved her going into the bedroom to call Rick Nielsen while we stood outside the bedroom with our ears to the door in order, I guess, that Rick Nielsen wouldn't hear us acting like morons in the background, thus queering the whole deal and leaving the mystery unsolved. It was a lengthy process as I recall, because Erika first had to call her mother to get the number, then explain to her mother why she needed the number without sounding like a drunken idiot, then call Rick Nielsen's house and explain to his wife why she wanted to ask him about the stupid bridge for "Lookout." I'm getting exhausted just writing about it.
When she finally emerged from the bedroom, Erika gave us a big dramatic build-up (actually, that's very unlike her, and it probably didn't happen that way at all, but let's just say…). And the answer?
"He couldn't remember the words at first," she said. "But he finally figured it out."
"Well?"
"It came from a dream."
I've done the same thing too many times to count, but come on. I could've invented twelve different great stories about the origin of that line (and I would, but I'm too busy and too lazy and it's getting late and I have other things to do). And this whole story is apropos of nothing, really, but Erika sent me a great photo of her and Rick Nielsen from her last trip back to Rockford, and I thought you might enjoy it.
UPDATE: As noted by Kurt in the comments, it was years before a studio version of "Lookout" was released. This just adds to the mystique of the lyrics. What the hell? This may necessitate another call to Mr. Nielsen. Hey Erika, ya still got that number?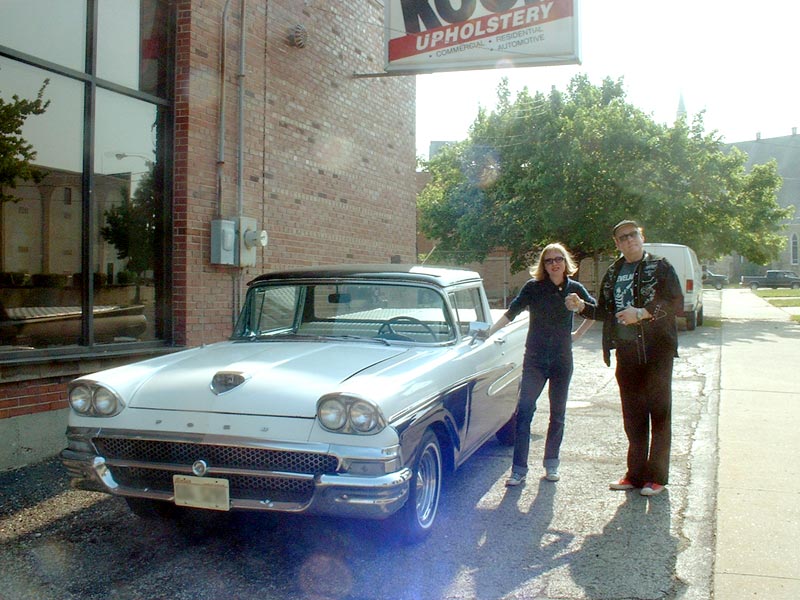 Posted by benweasel at
10:42 PM